Planning Context 
This scheme will have an export capacity of circa 35MW – in other words, it would produce enough clean energy to power approximately 11,600 homes per year and offset approximately 7,840 tonnes of CO2 each year, the equivalent of taking over 3,620 cars off the road.
Given the nature of this application, and the fact that it will generate more than 10MW of electricity, this project is deemed a Development of National Significance (DNS) and we must apply to the Planning Inspectorate Wales, which will make a recommendation to Welsh Ministers on whether or not to grant planning permission.
Ultimately, Welsh Ministers will decide whether or not to approve the application, however many other parties will have the opportunity to influence the proposals, including host local authority, Isle of Anglesey County Council, as well as local communities and interested parties.
Specific application elements 
Parc Solar Traffwll consists of three development areas, two are south/south-west of Bryngwran, and one to the west of Llanfihangel-yn-Nhywyn, as shown on the plan on this tile. The development areas are linked by below-ground cabling, which connects to the grid at Caergeiliog to the west.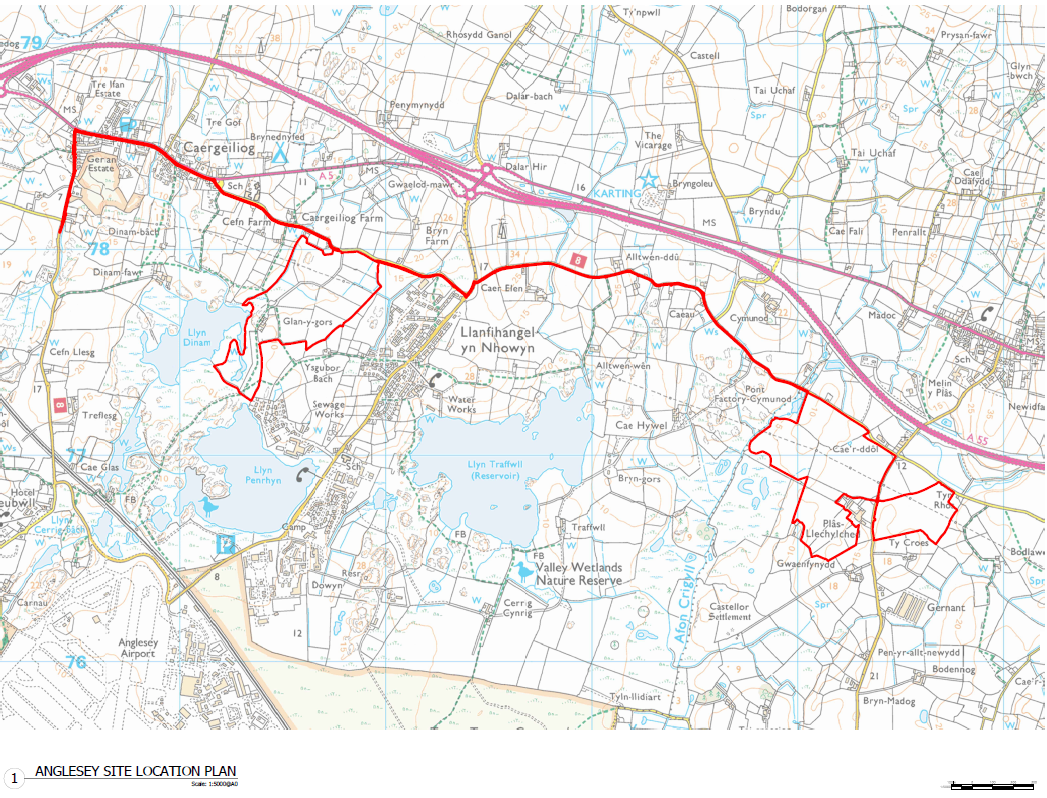 The specific infrastructure proposed comprises:
Photovoltaic (PV) panels;
Power storage units (batteries)
Mounting frames-matt finished small section metal structure;
Scheme of landscaping and biodiversity enhancement;
Inverters, transformers (transformers will be housed in prefabricated containers), substations (DNO and customer) and associated cabling (below ground);
Point of connection;
Stock fencing;
Infra-red CCTV (CCTV cameras would operate using motion sensors and would be positioned inward only to ensure privacy to neighbouring land and property);
Temporary set down areas;
Internal service roads; and
Site access for the construction, operation and decommissioning phases
Project design refinements to date 
The project proposals have already been refined significantly since the project's inception and as a result of early studies, assessments and technical consultation, the number of identified development areas capable of hosting project infrastructure have been reduced from nine to three. We are therefore seeking permission to develop these three development areas, which we feel hold the potential to deliver a non-intrusive scheme, which does not cause undue impacts on the surrounding area.